Volunteer WITH US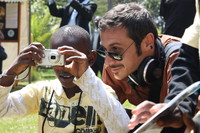 Koinonia Community is deeply involved in social activities, projects and initiatives that not only support the Kenyan community development but also represent a great opportunity for all the youth, adults and interested persons who want to become part of our Community. We highly value the
extraordinary support our volunteers make with passion
. Koinonia foresees different volunteer opportunities available in its services and initiatives based in Nairobi and its surrounding areas for individuals aiming at
making a difference
in the life of children, youth and women coming from harsh living conditions. The Community strongly supports individuals to apply as volunteers within all the initiatives. These experiences allow the volunteers to get a better understanding of challenging facing children and the other beneficiaries involved in the Koinonia interventions. Moreover, in order to assure a positive and special experience, the Community takes into consideration the attitudes, abilities and interests of every volunteer matching their will with the needs of koinonia. There are different ways in which volunteers can join us:
Volunteering in a Children's Home: it allows you to get a better understanding of the challenges faced by the children, the families and the personnel working in the Centre. According to your interests, Koinonia will allow you to teach, organize pedagogical and recreational activities for the kinds, support the work of the Managers, Social Workers, and Farmers of the Centre and bring new and innovative ideas aimed at improving the Children's quality life in a long-term perspective.

Volunteering in a specific CBO, NGO, and Initiative:

since Koinonia Community is an umbrella Organization, many other

realities are included in its network. These initiatives seek to be supported and empowered by new, innovative and sustainable ideas. Respecting your specific attitudes, you can represent a precious help for one or more initiatives, supporting them in their development and implementing original ideas.

Coming up with innovative programs and projects: Koinonia Community stands up for new ideas and innovative programs. The main objective of these ideas must be the development of the Kenyan society or the improvement of the life quality of the most vulnerable groups of the society. If you think to be in line with our Mission and you have some special ideas that are waiting to be implemented, contact us and share your intentions with us.
JOIN US TO MAKE A DIFFERENCE FOR THE BETTER!!
Please, before contacting us, check the Koinonia Initiatives section and find the project more suitable for you!