21 Boys from Ndugu Mdogo Baptized
Sunday, May 25, 2008: Members of the Koinonia family joined 21 boys from Ndugu Mdogo in celebrating their baptism.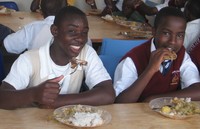 Twenty-one boys from the Ndugu Mdogo Home at Kerarapon were baptized in a solemn yet joyous ceremony on Saturday, May 24 2008.
The boys were baptized by Fr. Fabian at the nearby Mary Mother of Mercy Catholic Church in Bulbul and received their first Eucharist at the same church the following day, Sunday the 25th.
After the Sunday church service, the boys were treated to a daylong fete at the Ndugu Mdogo premises, where they celebrated their baptism with their guardians, godparents, Koinonia staffers, students from the Domus Marie School and family members of children under rehabilitation at Kivuli, Anita and Tone La Maji.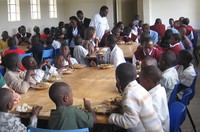 Many guests at the celebration noted the remarkable transformation the Ndugu Mdogo children exuded, given their largely decadent backgrounds. Their sociable demeanour and collective display of responsible behavior impressed many visitors, and the Ndugu Mdogo Home's administrator, "Mum Anne" Wanjiku, expressed her pride in the newly baptized boys for having remained focused throughout their religious instruction and staying the course all the way to their eventual baptism.
After the Sunday service, all guests gathered for a sumptuous lunch together, after which they were treated to a series of spectacular performances staged by the Home's children.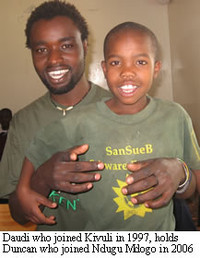 The presentations included acrobatics, juggling, skits, talent shows and poetry recitals. The master of ceremony, a 13 year old resident child named Duncan, clearly wowed the audience with his confidence and able conduct of the day's programme, while the show stopper of the day was a hilarious comedy with a plot centering around a lazy, arrogant man and his conniving wife in a rib-tickling mockery of dysfunctional marriages. The comedy drove the audience into prolonged fits of laughter and left them in stitches.
Speaking at the celebration, Koinonia founder Fr. Kizito congratulated the newly baptized children and the godparents who had guided them through nearly 18 months of catechism. Fr. Kizito also commended the Domus Marie students for their active participation in the function and urged them to be "big brothers" to the young children at the adjacent Ndugu Mdogo Home.