2006 Visit to Scotland
July/August 2006: Boys from the Mthunzi Cent toured Scotland in July/August 2006.Marian Pallister writes about their memorable trip.
The Mthunzi Culture group travelled to Scotland from Lusaka, arriving in Glasgow on Sunday, July 29, 2006. They were met by some of their Mid Argyll friends - Paul and Marc Sinclair, Freida Dewar and Marian Pallister - and despite their long journey sang all the way to Loch Lomond, where they changed from Zambian music to sing "The Bonnie Banks of Loch Lomond".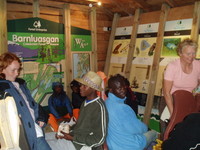 In Lochgilphead, they were greeted by Fr Wiliam MacLean and settled into their new Scottish families. The next day they explored the countryside and some even swam in a cold Scottish loch!
On Tuesday, August 1, the boys left Lochgilphead with Marian Pallister for the Aberdeen International Youth Festival in the north east of Scotland. Arriving after a five hour bus journey they immediately did an interview for the BBC and sang and danced for the cameras.
During their stay in Aberdeen, the group performed at least twice a day in a variety of venues, including a church, the Maritime Museum, and the city's Music Hall, where they proudly sang their national anthem unaccompanied in front of a big audience. They were invited to give a cabaret performance at the halls of residence and to sing during the Communion at a Mass in the Catholic cathedral.
They were immediately popular with both the festival organisers and with their fellow performers from all around the world. Their enthusiasm not only for performing their own material but for participating in events such as the Scottish country dancing evening made them great favourites. They held animated discussions with their peers, held informative conversations with their hosts at formal dinners - and broke a few hearts on the way!
Highlights included a dip in the North Sea, a theatre visit and a lunch party with Scottish singing star Fiona Kennedy.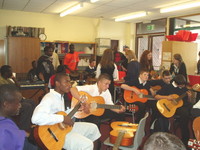 Back in Lochgilphead, they were given a civic reception by Argyll and Bute Council in Kilmory Castle, invited on a visit to MacLeod's building firm where they so impressed the firm's owner that he offered to set up special apprenticeships for the boys, and were given a party by artist Jolomo (John Morrison) and his wife Maureen, who have been major supporters of the Mthunzi Centre.
The boys were invited to perform at a Catholic Church in the former ship building town of Greenock, where so many people came to see them that extra seats had to be brought in. This was to prove the norm at their performances. After they took part in a youth Mass at Troon in Ayrshire, they went on to give a concert in the church hall and to share their thoughts and experiences with the young people of the Dumfries and Galloway Diocese.
The concert which they performed in the community hall, Lochgilphead, was yet another huge success, again with people sitting on the floor of the hall because there were not enough seats. Alan Reid, the member of Parliament who helped obtain the boys' visas, the chief executive of Argyll and Bute Council, and representatives of the donors all attended this, as well as people of all ages.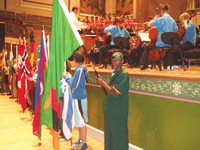 They have shared their music in daily masses at St Margaret's in Lochgilphead and on Sunday, August 20, They sang and drummed in every part of the liturgy and Charles did the readings. They also took part in Compline at the Scottish Episcopal Church after Mass in St Margaret's for the Feast of the Assumption.
They have played three football matches, (drawing 4 all in two and winning one 3-1), attended schools and given concerts for students in Oban, Tarbert and Lochgilphead.
The deputy head of Oban High School said after their concert: "I have never experienced a more inspiring start to a new school term."
In performing their concerts, the boys have raised enough money to pay the school fees of all the Mthunzi boys.
The boys have charmed and entertained everywhere they have gone. Their talent is immense and their enthusiasm for life a joy to experience. The are amazingly adaptable and we are proud to have been their temporary parents. All the families in Mid Argyll who have hosted the boys are sad to see them go and want to repeat the experience next year.

Marian Pallister