Thursday 5 March 2015
Jogging for Peaceful Elections in Burundi
Politically active youths from Burundi's ruling and opposition parties organise a joint jogging event to pitch for tolerance and peaceful elections in their country.
By Philip Emase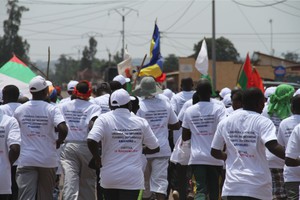 CIBITOKE, Burundi - It is about midday and a large group of about 90 young men and women begin their jog in Rugombo, a small town in Burundi.
The youngsters exude a positive energy, laughing and cheerfully singing songs in praise of their home province as they run through the streets of Rugombo, and onwards along the roads and pathways of the outlying villages and fields. Clad in white T-shirts, they wave an assortment of flags as they run. Not even the scorching tropical sun seems to dull their spirits as they make the eight-kilometre run to the provincial capital, Cibitoke.
Although jogging is a much-loved national pastime in Burundi, this is no ordinary run. These youngsters are politically active members of different political parties, coming from the six communes of Cibitoke Province in north-western Burundi. The youth from different parties have come to run together for peace in a sporting event initiated by a Youth Dialogue Group in Cibitoke and organised with the support of Interpeace's local partner in Burundi, the Conflict Alert and Prevention Centre (CENAP).
From the flutter of flags held aloft by the youthful joggers, one can discern the presence of representatives and supporters from various political parties. These include the ruling party, CNDD-FDD (the National Council for the Defence of Democracy – Forces for the Defence of Democracy), and from the opposition, the two splinter formations of the Front for Democracy in Burundi (FRODEBU-Nyakuri and Sahwanya-FRODEBU); the Movement for Solidarity and Democracy (MSD); the National Forces of Liberation (FNL); the Union for National Progress (UPRONA); and the Movement for the Rehabilitation of Citizens (MRC).
These parties are typically in intense competition with each other, sometimes leading to violent clashes between their youthful supporters. This year is particularly critical because presidential elections are scheduled for June 2015. There is a big debate around the existing presidential term limits and whether the country's incumbent leader should be allowed to run for re-election. On this hot, windy Friday afternoon however, the young representatives and supporters of these various parties in Cibitoke Province have agreed to come together for a joint run, aimed at helping diffuse the cross-party tensions that sometimes turn violent. The slogan on their white T-shirts calls out to them in the national language, Kirundi: "Rwaruka, Turengere ubudasa bw'imigambwe turimwo, Dutsimbataze amahoro!" ("Young people, let us transcend our political differences and work to build peace!")
Upon arrival in the city of Cibitoke, the joggers take a break to regain their breath. Some of them sit on the grass while their party flags continue to sway gently in the wind. An open discussion follows, moderated by a megaphone-wielding facilitator who encourages the youngsters to see themselves as the future of the country and to be wary of negative manipulation. As the facilitator stops for a break, a young member of the opposition FRODEBU-Nyakuri party reaches for the megaphone. He tells his fellow youth that political affiliation should not be a source of conflict, sagely reminding them that one's political opponent is in actual sense a neighbour or brother - someone you can count on in times of trouble, for instance when your house is on fire.
Stanislas Itangishaka, an active member of the opposition MSD party in Rugombo Commune, remarks that this joint activity - a first in the province - has left many people pleasantly surprised.
"In the past, this kind of sporting activity would only take place amongst young people of the same political affiliation," Stanislas says. "Participants would often chant violent slogans against their opponents, but today we have done it together without regard for our party affiliation, all under one slogan for peace.''
Melchiade Nzokizwanayo, a youth representative of the ruling CNDD-FDD party from Bukinanyana commune, said he welcomed such joint activities and promised to help organise similar initiatives in his hometown, in collaboration with fellow youth from other political parties.
Libérate Nakimana, Deputy-Director of CENAP, could not agree more with this expression of common purpose.
''Be role models for future generations," Ms. Nakimana said at the event. "Being a member of a political party is a good thing, but be aware of the goal you are pursuing in these parties. Be peacebuilders in your political parties.''
Provincial authorities also welcomed the willingness of the young men and women to live together in peace despite their party differences. The Principal Advisor to the Governor of Cibitoke, Saïdi Anicet, called on the young people to stay vigilant during election periods to avoid falling prey to manipulation by political actors.
"May the energy and strength that you have shown today during this activity be channelled into the development of Cibitoke," Mr. Anicet said. "You can help build schools, hospitals and other facilities that your province needs."